We're delighted to announce the next major version of CCC. With powerful new features for the advanced user and helpful features and simplifications for the novice user – CCC 5 makes managing your backups easier for everyone. Take a look at what's new in CCC 5:
Task Groups
Many users have asked for more advanced ways to organize their tasks, so CCC 5 offers task groups that have both organizational and runtime behaviors. Collect your tasks into groups simply to organize them, run a whole group of tasks with a single click, or schedule a task group to have those tasks run sequentially on a regular interval.
Smarter SafetyNet
CCC's SafetyNet pruning settings will now automatically adapt to the amount of data your tasks need to copy. If a backup task runs out of space on the destination, CCC 5 will revisit the pruning of the SafetyNet folder, then resume copying.
Guided Restore
If you boot your Mac from a CCC backup, CCC 5 will open and offer to help you with a guided restore. In the guided restore, CCC 5 will create a new restore task, select the startup disk as the source, then present coaching tips that guide you through selecting the destination and (optionally) excluding items from the restore task.
New scheduling options
Tasks can be scheduled to run once at a particular time in the future. After that run, the tasks will revert to run "only when I click the Clone button". We also added hourly runtime limits, allowing the user to limit a task to running only between 5PM and 7AM, for example. Hourly limits will prevent a task from starting if it's outside the specified run time, and if the task runs past the allowed end time, the task will be stopped.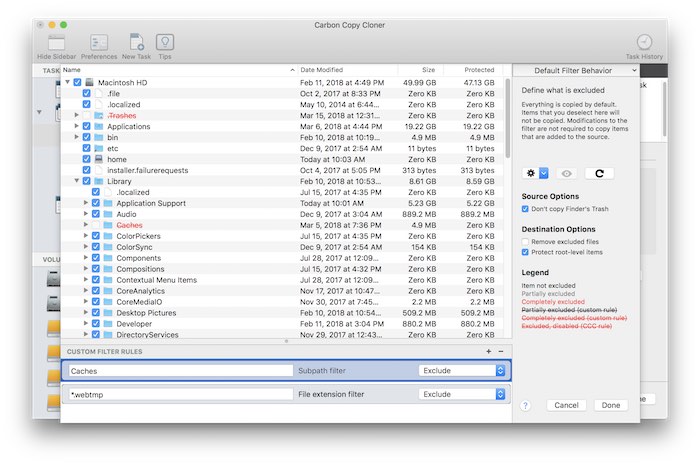 New interface for defining task filters
Excluding a folder or two from a backup task has always been trivial with CCC, and now it's even easier to precisely define what should and should not be backed up. You can also now visualize the effects of custom filter rules, and now CCC 5 will report how much data is going to be backed up. A QuickLook panel shows you a preview of your files, and you can sort your file list based on name, size, or modification date.
Simplified Remote Mac setup
The setup procedure for backing up to a remote Macintosh has been greatly simplified. SafetyNet pruning is now available for remote Mac destinations, and CCC 5 can now show you the content of a remote Mac source. Backups to and restores from a remote Mac have never been simpler!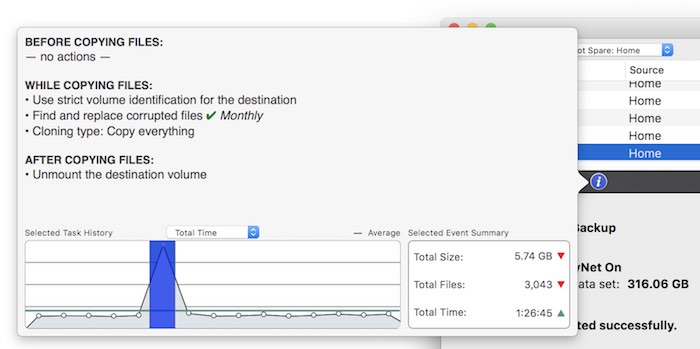 Task History Trends
CCC's Task History window now offers a trend chart. The trend chart shows how your tasks are performing over time, and how many files/how much data gets copied each time your task runs.
Other frequently-requested goodies
The destination selector offers a visual disk usage indicator.
You can click on a volume (e.g. in the source/destination selectors) to mount or unmount that volume, or to reveal it in the Finder.
Tasks can be sorted by name, exit status, last run date, next run date, or manually.
The CCC User Agent will now check for updates on the schedule defined in the main application.
Some of the the Cloning Coach messages have been aggregated and simplified to seem less scary to novice users.
The "Find and replace corrupted files" setting can now be limited to run once per week or once per month.
Tasks can be imported and exported.
Task filters can be imported and exported, and the task filter is no longer cleared when you change the source selection for a task.
You can now delete individual task history events.
APFS and High Sierra Support
CCC 4 will be qualified on macOS High Sierra with some support for APFS source volumes, but the majority of our APFS compatibility support is going into CCC 5. CCC 5 currently offers bootable system backups from APFS to APFS, HFS to APFS, and APFS to HFS, and of course HFS to HFS. Additionally, CCC 5 supports APFS encryption for both source and destination APFS volumes, as well as for remote Mac source and destination volumes. You read that correctly – CCC 5 can automatically unlock and mount your APFS-encrypted volumes on a remote Macintosh, and do so while maintaining the security of your encryption key in a keychain.
Upgrading to Carbon Copy Cloner 5
Your CCC 3 or 4 license may be eligible for upgrade pricing, but Carbon Copy Cloner 5 licenses are not currently available for sale. CCC 5 licenses will be available for sale when it is officially released in August. CCC 4 licenses purchased after today will be automatically upgraded to CCC 5 licenses when CCC 5 is released. If you would like to participate in our beta testing program, you can download a pre-release version of CCC 5 and start your 30-day trial today.
Additional Resources